reworked by Rizmal
Credits :
Originaly v0.9 made for GTR2 by Zoca
Infos abou the real track :

Ušce was also the site of temporary street circuit where races were held since 1967 and were held almost every year afterwards. The track (in a 2.310 meter configuration) encompasses  roads around the blok 15 (Ušce park), passing near the Ušce Tower, along the Branko's Bridge and then along the Sava bank, with its start-finish straight just across the eternal fire monument.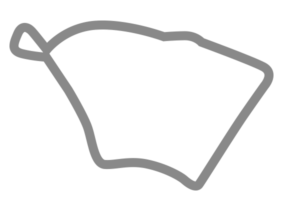 The circuit is popularly known as "a circuit without right hand turn", although it has two slight right-handers, and it is famous for its high speed S-curve near restaurant "Ušce" and Museum of Contemporary Art, on Sava coast, which exist because the road had to navigate around the previously made Ranney collector. The first race was held on 30. April, 1967.
But the most remembered is the one held in 1969. (on a 4.350 configuration) when around 40.000 spectators flocked to see powerful Fiat Abarths in European Touring Car Challenge, and Formula Vee cars race on the streets. After poor management and maintenance of roads and circuit, and race cars reaching high speeds in 90s and 2000s, FIA and drivers continuously criticised the safety of the track, lack of proper barriers and run-off areas.
After many unfortunate events, and a fatality in 2005, the circuit was taken off the calendar and "Grand Prix of Belgrade" was subsequently replaced with a race held in Batajnica Air Base. Despite these events, the race on Ušce was held in 2008, and never again. The rich history of races held on Ušce have gained somewhat a "classic" status in Serbia and former Yugoslavia, with meany people's associations on hearing the word "Ušce" firstly reminding them about the race.
In this version :
Usce_NEW :
– reworked fast line for faster AI drivers.
– fixed safety cars positions
Usce_OLD :
– fixed bug with crashing in pits when using AI driver
– reworked fast line for faster AI drivers
Known problems :
– Corner markers is from right to left not left to right
THX to :
Tommy4GT & Gee-Deeman (ABB) for testing the track
Uwe (ABB) & RaceDepartment guys for help with the starting lights
Sunalp for his ATI fix file (for certain folks)
Installation:
Delete previous version and then extract new version to your GTL folder